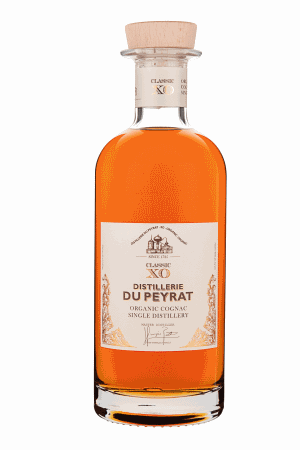 This blend of organic cognacs gathers the best of Fins-Bois and Petite-Champagne crus taking roots in the cognac region whilst showcasing the aromatic potential of Folle Blanche grape variety paired with Ugni-blanc. To achieve a wide palette of aromas and a great maturation potential, this Cognac has been distilled in our traditional charentais pot-stills using wine lies and following our signature fatty distillation process. Vine, oak, time and a bit of craftsmanship make this cognac a classic for anyone wishing to discover the world of XOs while supporting a respectful and sustainable approach to winegrowing.
Rich,  spicy, hints of walnuts
Very soft,  with elements of died fruits and chocolate
All our Cognacs are distilled in traditional "Charentais" copper pot stills, heated with direct flame, following the distillerie's signature fatty distillation process. The distilling of our Cognac is performed in two batches, we source wines directly from our own estate located in the Fins-Bois region and from the vineyards of our winegrower partners, all managed according to organic production methods. Our Cognacs are crafted without using synthetic chemicals, with a specific attention for the preservation of local environment and biodiversity. To learn more about Organic Cognac & Cognac Distillation, you can check-out our article about Making Cognac.
"Golden in the glass, the dried apricot aroma includes a smoky tinge. The palate echoes the dried apricot note, layering it with vanilla, cinnamon and clove. It finishes rounded and mouthwatering." – 92 points.